Fitting-out component parts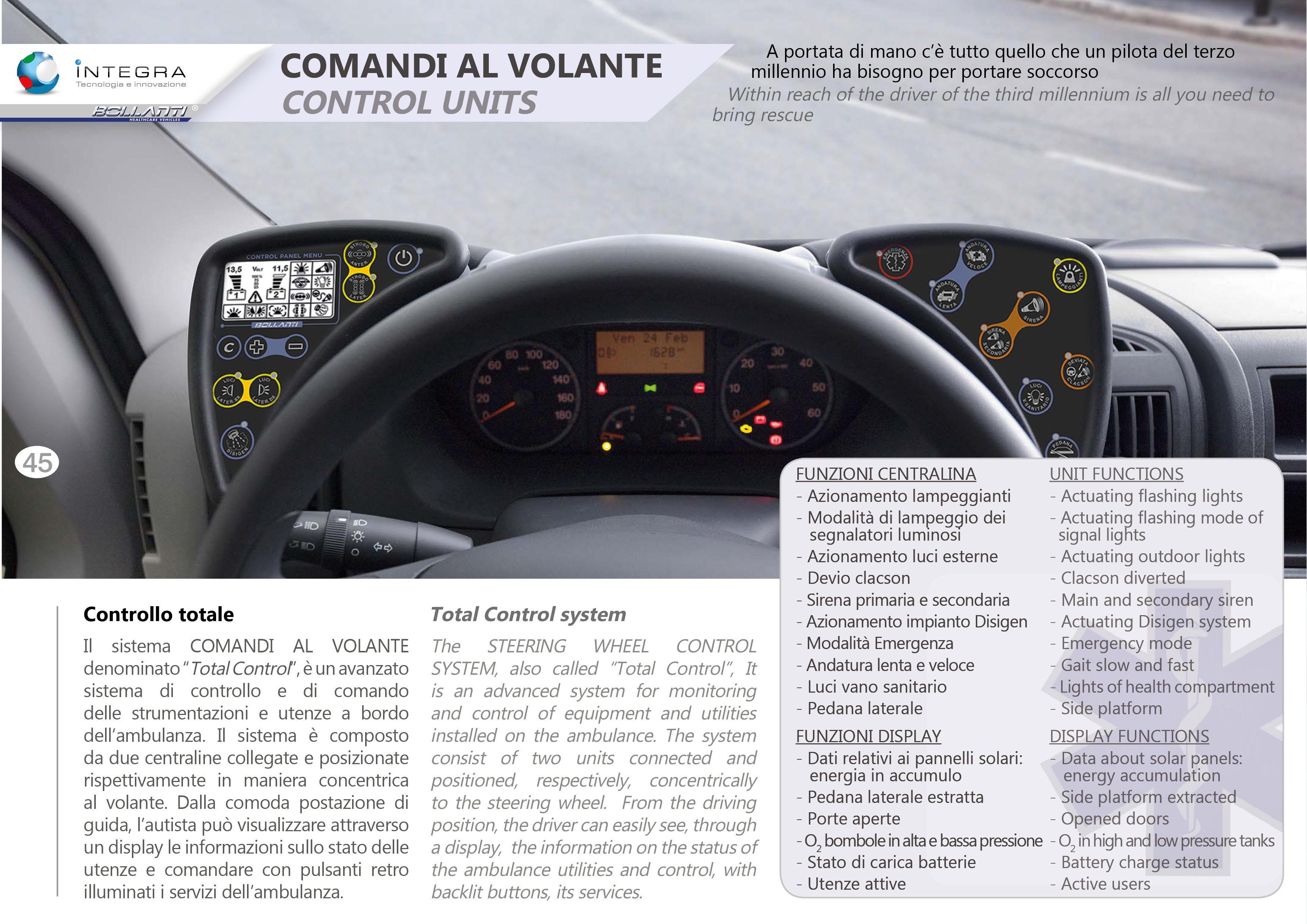 Total Control
The system STEERING called "Total Control" is an advanced system monitoring and control of equipment and utilities on board the ambulance. The system is composed of two connected control units and respectively positioned concentrically to the steering wheel. From the comfortable driving position, the driver can see through a display status information of the users and control with back-lit buttons ambulance services.

The control unit controls "TOTAL CONTROL" for the cab, which derives its principal value from the provisions of the new Highway Code, which establishes the correct setting of the hands on the steering wheel to operate the vehicle safely and to prevent the risks of distraction (from Hence the value added on the Law 81/2008 on the prevention of risks in the workplace) with the endorsement of both hands on the steering wheel, preferably in the 10 o'clock position and 10.
The Total Control system or steering wheel controls the side has a large display high-definition matrix backlit divided into functional areas, plus two dedicated buttons to the menu, which displays the number of active users:
- Platform lateral extracted
- Open doors
- State of Charge Battery
- O2 in cylinders at high pressure
- O2 in cylinders in low-pressure
- Data relating to solar panels: energy accumulation
- Blinking pattern sidebars

The pendant embossed identifies each command, each with a light that identifies the function on / off. The various functions are divided by type.
Push-button on the SX, you can operate:
- Strobe Mask.
- Spoiler Technician.
- Strobe Side Integrates with sequence.
- Lights Side.
- Disigen automatic disinfection systems.

Push-button, you can operate the DX side:
- Emergency
- Trend Fast
- Slow Performance
- Flashing
- Sirena.
- Second Siren
- Deflected horn
- Exclusion Side Platform
- Lights compartment Health.
In case of urgency the practicality of Emergency command is distinguished because it allows simultaneous operation of various devices such as distress beacons / Siren / Strobe. Alarm exclusion unit. Spy open doors with acoustic and light signal. Lamp socket 220 V external connected to the network.